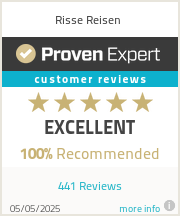 We plan your individual Group Holiday and turn it into a one of a kind experience!
Our coaches adhere to the Euro 6 oder 5 Standards fro the most environment friendly way of travel!
Risse Reisen
Busanmietung
Rent our coaches and let us bring you safe and sound with unrelenting comfort to your destination!
We can provide coaches for any kind of travel. Be it day trips, shuttle service or multiday trips throughout europe.
Our coaches have a capacity from 44 bis 80 seats.
If needed we can add a bike trailer, luggage trailer or skiybox.

1. Request a quote
Us the request a quote from for your individual travel plans.
Request a quote

2. Receive your Quote
We do our best to get our quote to you in the shortest time possible.
Terms of Service

3. Accept the quote
Accept the quote via phone, e-mail or directly through our Online Order Link on your quote and we will confirm your booking asap.